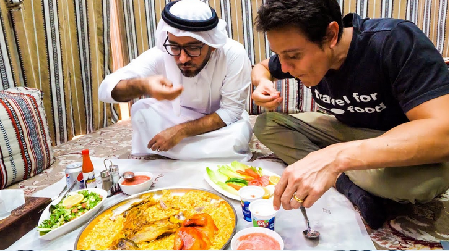 Where to Try Emirate Cuisine in Dubai
September 15, 2016
Dubai is not only known for its spectacular high rises and luxury hotels, but for its ever-growing restaurant scene that features every type of food you could imagine. With a number of celebrity chefs opening up restaurants in the city, Dubai is home to a selection of cuisines you will see nowhere else in the world.
However, there is nothing quite like indulging in traditional Emirati food made by locals, filled with delicious flavours and made with unique techniques, which can be found at the local cafes, souks and restaurants that have been around for a number of years.
While you are on holiday to Dubai, experience Emirati cuisine at its best by dining at one of the following restaurants in the city:
Kaleidoscope Buffet – Atlantis, The Palm
Located at Atlantis, The Palm – a five-star hotel set on the iconic Palm Jumeirah island with breath-taking views of the Arabian Gulf – Kaleidoscope Buffet is an international buffet that includes a wealth of different but equally delicious options.
The buffet includes a day dedicated to Arabian Flavors – which takes place every Thursday – where diners have the opportunity to take a tour of the Middle East through a number of authentic Arabian recipes and dishes. Some of which include mezze and tender meats, grilled favorites and special recipes.
Bikers Café – Jumeirah Beach Road
If you are a breakfast person – not everyone is – head down to the Bikers Café on Jumeirah Road in Jumeirah for a traditional breakfast to remember.
Although its interior was inspired by American diners, you shouldn't be put off, as it is one of the very few restaurants in the area where you can order an authentic Emirati breakfast. Be sure to order the Flavour of Arabia Breakfast – one of their most popular breakfasts.
What's more, for motorbike lovers, it's the perfect paradise, as there is a number of motorcycles on display as well as live viewings of both F1 and Moto GP.
Sheikh Mohammed Centre for Cultural Understanding
Serving up traditional Emirati dishes for breakfast, lunch and a Saturday Cultural Brunch in their wind tower house, the Sheikh Mohammed Centre for Cultural Understanding is the perfect location to indulge in delicious home cooked Emirati cuisine that won't disappoint.
Located in the Al Bastakiya trading village in the Al Fahidi Historic District – which is one of the oldest neighbourhoods in Bur Dubai – diners have the opportunity to chat to their Emirati host about the UAE culture, history, and religion, and pick up a few cooking tips along the way!
Arabian Tea House Café
Every aspect of the Arabian Tea House Café has been designed to recreate the past way of Emirati life, and provides diners with an oasis of calm and quiet where they can relax out of Dubai's harsh heat and indulge in a traditional meal.
Simple and traditional snacks and beverages fill the menu, with additional options of more modern food and beverages (juices, salads and pastries), ensuring that they cater for each and every diner that walks through their doors.
Treat yourself to a selection of delicious traditional foods during your holiday to Dubai, in order to expand your knowledge of the food served in the country and to try something new! From mezze to dips and salads, Dubai has so much to offer those who enjoy eating and trying new eats.