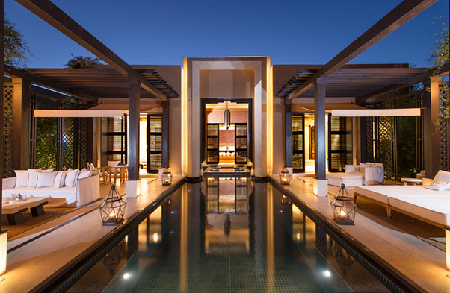 Luxury Villas you must stay in while in Morocco
August 1, 2016
Morocco is an exotic, enticing country that blends the best of Arabic, African, Berber and European influences in its diverse architecture.
When staying in this magical country many travellers prefer to stay in self-catering accommodation, such as a house or villa, where they are not bound to the rules and regulations of a hotel room in Morocco.
However, this also comes with its drawbacks, such as security issues and getting advice on where to go and what to do, transport, best restaurants and beaches, etc, that most hotels are set up to provide.
To find a middle way, you can opt for a luxury villa that is geared towards giving you as much independence as you could wish for, while travel assistance is just a phone call or door knock away.
Gorgeous luxury villas for your stay in Morocco
Mazagan Villas
Set in the gorgeous lawns of the award-winning Mazagan Beach Resort, the Mazagan Villas is where you can discover complete privacy while being able to access the resort's luxury facilities around the clock.
Designed by renowned Moroccan architect Jamal Lamiri Alaoui, each villa is uniquely crafted and built to the highest specifications, finished with state-of-the-art fixtures and interiors.
You can choose between a three-, four- or five-bedroom villa, each with a private swimming pool and offering amazing views of the fairways, garden and Atlantic ocean.
The five-bedroom villa stretches over three floors and has an extensive service area to accommodate up to four staff members.
Each villa has a master bedroom and additional rooms, each with en-suite facilities.
The outdoor spaces include a spa pool, a carport for two or three vehicles, depending on the villa size, and a roof deck dining area.
The villas also have their own, fully equipped kitchens, bathrooms with large walk-in shower and luxurious baths.
This luxury hotel in Morocco, set on the ocean just 20 minutes' drive from the town of El Jadida, allows villa guests to enjoy the fine dining restaurants, a Gary Player golf course, modern casino, nightclubs, spa treatments and fitness center attached to the resort.
Banyan Tree Tamouda Bay Villas
The Banyan Tree is Morocco's first all-inclusive pool villa resort.
Each villa has its own garden and private pool while some villas also have direct access to the beach.
Choose from eight different villas, with names that say a little more about them, such as Bliss Pool Villa, Garden Pool Villa, Spa Sanctuary Villa or Courtyard Villa.
Facilities include an outdoor pool and loungers, en-suite, luxury bathrooms with oversized bathtubs, a mini bar and coffee and tea-making facilities or, depending on the type of villa, a Jacuzzi and/or an open-plan kitchen leading off a comfortable lounge area.
The Banyan Tree Tamouda Bay in Morocco is a 60-minute drive from bustling Tangier, positioned between the rugged Rif Mountains and the glistening Mediterranean Sea. Villa guests are welcome to enjoy the dining, adventure and spa facilities at this remarkable luxury resort in Morocco.