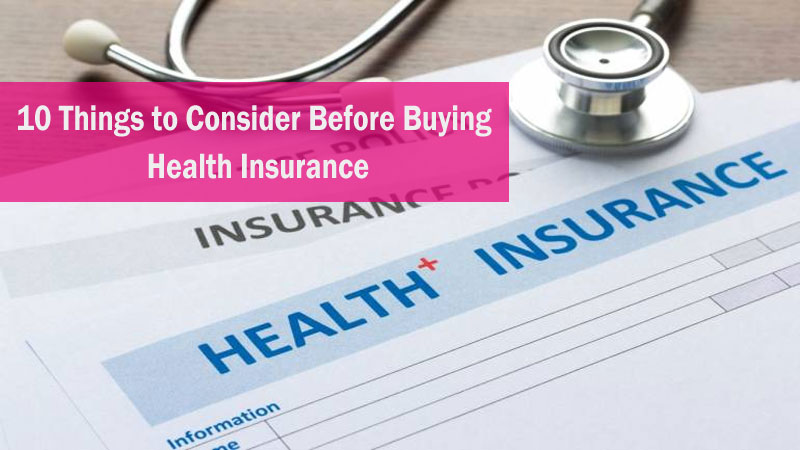 10 Things to Consider Before Buying Health Insurance
May 11, 2023
The importance and relevance of good health cannot be stressed upon enough. With the UAE offering one of the most efficient and advanced health infrastructures in the world, the initiation to get a health insurance policy here must be top priority.
Notwithstanding the tedious task of zeroing down on one, researching the best insurance providers and the copious plans and jargon that may be beyond your comprehension, the cost of premiums, claims process just adds to the confusion. Though health insurance in the UAE is free, either provided by the employers mandatorily in Dubai and the Northern emirates or specially curated government plans covering you and your family in Abu Dhabi, being under the cover of one is imperative.
Now that most of the insurance providers have moved their services on the digital bandwagon, the process does make it a tad more convenient, saving you the hassle of waiting in queues and haggling with agents. Understanding how and where to get started can be baffling, but if you keep certain things in mind before you get down to deciphering what to expect from your insurance policy, you will most certainly stand in good stead. So, here we list down the 10 things to consider before buying health insurance online.
1. Waiting Period
Most insurance companies in UAE have a waiting period of 2-5 years usually. Waiting period is the time during which you cannot reap the benefits of a health policy. That means you cannot claim any expenses arising out of any kind of medical care or illnesses during this time. So, you must wait it out till the period is over to start experiencing the benefits.
Make sure that the insurance provider you choose offers the shortest waiting period duration, so in case of an emergency, you can claim immediately. The earlier in life you get a health insurance, the better the policy will serve you as you are obviously less prone to illnesses and are able to enjoy the advantages to the fullest.
2. Claims Process
The worst experience for any insurer is to have to wait for a claim settlement. After a stressful tryst with an accident or illness, the last thing you want is to go through another tedious process waiting to be compensated in case of emergencies.
While searching for an insurance agency, make sure you research well while comparing various providers for the time taken for claim settlements. Go for one that has a reputation for faster online processes.
3. Coverage & Premium
Here, the 'more for less' mantra will come handy. It's obvious that the more benefits you get, the more you will pay. But you must bring your research skills out if you want the maximum benefits out of your health insurance policy. It is always practical to purchase one with a low-cost premium, but it shouldn't be at the cost of the coverage.
This one may take a little time to settle down with, so take all the time you need to compare plans online.
4. Cashless Hospitalisation
With digital being the order of the day, it is almost obvious to go for cashless processes. Most insurance companies in the UAE collaborate with hospitals where your evil cashless treatment, as in you save yourself the task of paperwork and complicated claim settlement procedures. Once you admit to a partner hospital, your insurance company pays the bill directly to the hospital. Confirm with the provider if the benefit is valid.
5. Pre and Post Hospitalisation
It is always better to be well prepared for a rainy day. Get a health insurance policy that covers you for expenses that you incur before hospitalisation (ambulance services, medicines, tests) and after hospitalisation (surgical procedures, therapies, check-ups).
6. Maternity Benefits
With the cost of maternity treatments shooting through the roof, it is advisable to get a policy that covers maternity and newborn expenses. You must also note that the waiting period for maternity cover is 2-4 years, so purchase a plan that saves you costs as much as possible.
7. Lifetime Renewal
Getting a health policy that suits your budget and cover is bliss. But ensure that the policy is lifetime renewable, that is it doesn't come with an age limit, especially if you're looking for a reliable policy for your aged parents.
8. Free Medical Check-up
As you age, regular health check-ups are a must. But with medical costs increasing every year, the burden of exorbitant check-ups such as cancer screenings, MRIs and cardiovascular diseases, can become burdensome. You wouldn't want to miss out on regular checks to keep your health in good shape. So, it is advisable to have free medical check-ups as a part of your policy cover.
9. No Claim Bonus
This bonus gives extra advantage without you doing anything.
In a scenario where you hold a medical insurance plan and abstain from making any kind of claim for any treatment or procedure throughout the one-year tenure of the policy, you become eligible to be rewarded No Claim Bonus. This bonus comes to you either in the form of a discount on the premium or as an increment in the sum insured. This not only keeps you safe and mindful but well-endowed and secure! Ensure your policy includes this.
10. Geographical extensions
It's always better to consider the extent to which your medical insurance will cover you. By extent, we mean whether the policy extends benefits and cover even while you're traveling to another country. Having your policy cover you worldwide will offer peace of mind and security through and through, in case of an incident in a foreign land.